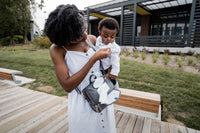 3 Separate Compartments
Keep Diapers in one compartment, Wipes in another, and Changing Pad in a separate compartment. All seperate, yet together.
What you Get with your ChangePal:
1. Peace of mind: Your changing items will always be together when needed-- Save time spent on always looking for changing items
2. Organization: No more digging through your messy diaper bag for items- diaper changes will be a breeze. Just grab and change anywhere
3. Versatility: Crossbody bag for all your needs. Just switch from mama duties to personal outing trips with the same bag.
4. Easy Carry: Take your lightweight ChangePal with you and your baby to the park, store, restaurant, on the plane, car ride, nursery, bedside helper, grocery store runs or brunch! Hey, you decide for yourself.
2 Designs Available
Please note that there are currently two versions of our ChangePal bags. A Wipes Pouch version and our updated Full Pack of wipes version intended to hold most branded pack of wipes (the gray vegan leather).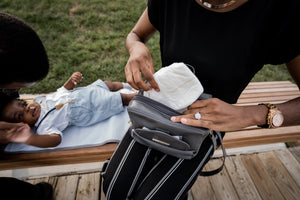 Created by a Mom to help Solve Messy Diaper Bags and Easy Grab and Go with Baby
If you are looking for the best travel diaper changing pad, the ChangePal is the solution to your search. This convenient, all-in-one case makes diaper changing time for mom or dad so much easier! Used as an organizer inside a large diaper bag or as a mini baby/mom or baby/dad bag, ChangePal carries all of the essentials needed to perform a diaper change without the hassle of dragging a huge diaper bag around everywhere!
Hands free carriage: comes with stroller and shoulder straps
We have all been there, baby in hand while needing to grab wipes? The ChangePal makes access to wipes super easy. You will wonder how you ever got around on-the-go after you start to use it. With the included stroller straps and shoulder straps, you can take your ChangePal with you anywhere you go; alone or with baby: stroll in the park, travel on the plane carefree knowing that you can have the easiest access to you baby's needed essentials whenever needed, use for extra storage in the car, quick trip to town or use as an organizer inside a bigger diaper bag or tote.
Testimonials
Wonderful organizer for your diaper bag! Not only is it convenient to use when you are out of the house and need to grab and go, but it is also nice have around the house instead of taking a trip to the nursery. Very affordable for such a versatile product.

New Mom
*****CUSTOMER REVIEWS*****
I highly recommend this product. The changepal bag is the perfect size. I purchased two of these, one for use with a baby and the other one is used for my dads Ostomy supplies. It's small but holds everything you need. We love the quick access to wipes. The customer service department is great as well. ⭐⭐⭐⭐⭐
I absolutely love this. Fit's everything I need. 2 diapers. Wipes. A bottle. Little formula dispenser. Burp cloth. A sleeper and some diaper cream all in that little bag. ⭐⭐⭐⭐⭐

Perfect for quick runs out of the house with a newborn. ⭐⭐⭐⭐⭐

This is so good for me when I go out by myself with my little man perfect amount of space for both of our things. ⭐⭐⭐⭐⭐
I love how easy it is to change my toddler on the go! Just grab this bag that has the essentials or leave it in your car for when you head out! It has been a life saver. :) ⭐⭐⭐⭐⭐
I'm so pleased with my ChangePal. I've always wanted an on the go option for carrying all my baby changing contraptions. The product design is really cute & quality looks great for the prize. I'd write an updated review after a few months to see if it holds up to frequent use. Overall I'm pleased with this purchase. ⭐⭐⭐⭐⭐
This Little bag has everything you need to get out the door. A spot for diapers, wipes, wallet and cell phone... even throw a snack in there. If you're a minimalist parent or just need a small quick grab and go bag for short trips then this is for you. We love ours. Must have!! Awesome for baby showers, too!! ⭐⭐⭐⭐⭐
This was a great buy!!! I am able to carry this wherever i go with my baby. It holds enough diapers, diaper cream and a changing mat. I even manage to sneak in snacks in the pocket. Higher recommend this product. ⭐⭐⭐⭐⭐
I used ChangePal with all 3 of my children and it works like a charm! If you are on the go and want to take what you need without having a bulky diaper bag, this is the best solution. It's portable, convenient and stylish. I love ChangePal. ⭐⭐⭐⭐⭐
Excellent!!!!!!! I love this product easy to use make life simple with babies and toddlers. I recommend to anyone that have kids or planning on having kids. All my friends with babies have ChangePal and they absolutely love it. ⭐⭐⭐⭐⭐
I actually purchased this for my 7 year old daughter so she could use it for her baby dolls. It is perfect! I actually wish I had one when she was a baby because it's much more convenient than a huge bag. It's very sturdy and seems like it's very good quality. I would definitely recommend this! ⭐⭐⭐⭐⭐
I purchased this ChangePal organizer to help me organize my baby's diapering items that were all over the place. It's perfect! I use it all the time now. I fill the wipes section up with wipes, fill the diaper section with diapers, and put the baby ointment in the 3rd section. It comes with a changing pad that is lined, and easy to clean. I will purchase as gifts again for my expecting friends now. ⭐⭐⭐⭐⭐